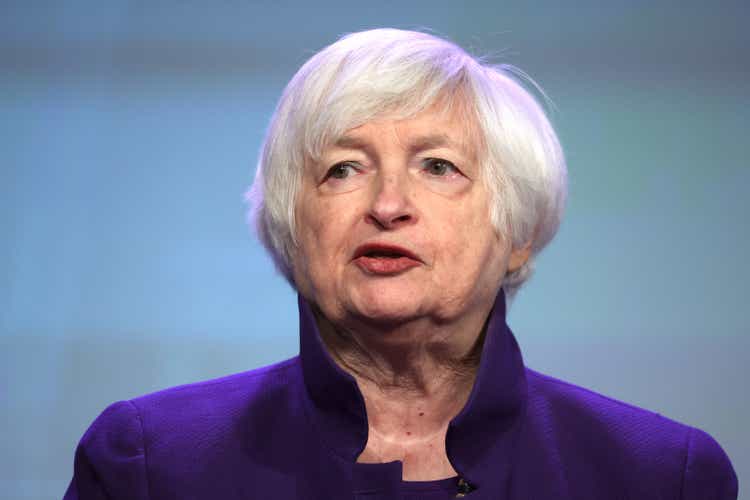 Pushing back against the argument that strong financial regulation stifles financial innovation and economic growth, Treasury Secretary Janet Yellen contends: "Our prosperity depends on the work to safeguard financial stability before a crisis occurs — just as the implementation of a strong fire code can prevent a fire from breaking out."
The statement comes from prepared remarks, she'll make when receiving the Paul Volcker Award at the National Asssociation for Business Economics Annual Economic Policy Conference Thursday. The presentation is scheduled for 3:45 PM ET.
Actions taken after the 2008 financial crisis to protect financial stability worked during the pandemic-induced "dash for cash" that put a tremendous strain on the financial system in 2020.
The financial stresses caused by the COVID-19 pandemic and the bank turmoil triggered by two bank failures earlier this month "remind us of the urgent need to complete unfinished business: to finalize post-crisis reforms, consider whether deregulation may have gone too far, and repair the cracks in the regulatory perimeter that the recent shocks have revealed. We must also address new areas of risk," Yellen will say.
The financial strains of the past three year "have not triggered the worst-case scenario — a financial meltdown like we saw in 2007 and 2008," she said. "In large part, this was due to the post-crisis reforms we put in place. But in both cases, the government had to deliver substantial interventions to ease the pressure on certain parts of the financial system."
And while the recent turmoil appears contained, "any time a bank fails, it is cause for serious concern," Yellen notes. "Regulatory requirements have been loosened in recent years. I believe it is appropriate to assess the impact of these deregulatory decisions and take any necessary actions in response."
She also will speak about the government's role in monitoring risks in nonbank financial institutions such as money market and open end funds, hedge funds, and digital assets and the importance of government to ensure financial stability in those channels.
The debt ceiling also poses an urgent risk. " A breach of the debt ceiling could lead to a prolonged downturn and a global financial crisis. And it could upend the lives of millions of Americans and those around the world," Yellen is scheduled to say.
"Congress must raise or suspend the debt limit. It should do so without conditions — and without waiting until the last minute."
After the collapses of Silicon Valley Bank and Signture Bank, the Federal Reserve created a lending faclity to make additional funding available to help financial institutions meet the needs of their depositors.
Dear readers: We recognize that politics often intersects with the financial news of the day, so we invite you to click here to join the separate political discussion.