February 1 this year marked three years of Brexit, which combined with the pandemic and the Ukraine war had a significant impact on the UK's textile and clothing industry. The industry, mostly represented by micro firms, has been affected by increased trade costs in the form of non-tariff barriers, such as customs procedures, documentation requirements, and regulatory compliance. This has led to stifled exports and imports, labour shortages, and decreased ability to retain skilled labour, which is crucial for growth and innovation in the industry. Additionally, businesses selling to the EU nations and vice versa have experienced significant shipping delays and increased organisation costs. This article studies the challenges faced by the UK's textile and clothing industry post-Brexit.
In 2023, many businesses are still struggling to deal with the impacts of Brexit and the United Kingdom (UK) – European Union (EU) Trade and Cooperation Agreement (TCA), as it involves higher trade costs in the form of non-tariff barriers such as customs procedures, documentation requirements, regulatory compliance etc. The UK's textile and clothing industries, which are mostly represented by micro firms, usually financially constrained and less capable of quickly adjusting to trade shocks, are among those sectors which are most affected by these changes. Brexit has stifled exports and imports as well as caused labour shortages. There are also concerns about a decreased ability to retain skilled labour, which constitutes a key driver of growth and innovation in the industry.
During the post-Brexit period, businesses headquartered in the UK selling to the EU nations and vice versa saw significant shipping delays and increased organisation costs. Many EU manufacturers have even paused or stopped trading with the UK altogether because of the duties levied. Owing to Brexit, the pandemic and the Russia- Ukraine war, the UK economy is facing various challenges including high inflation, low investment and falling growth, driving the country's growth rate to be the lowest in the G7 group. The IMF and OECD predicts UK to have one of the lowest growth forecasts for 2023.
Customs Duties and VAT
Since January 1, 2021, the rules for the import of goods from outside the UK are the same for all, regardless of whether the goods originate in an EU or non-EU country.
• Customs duty: Travellers are allowed to bring in up to £390 worth of goods without paying customs duty. If they exceed this, they will have to pay duty at a rate that varies depending on the type, value, and origin of the goods. Goods ordered from a retailer in any EU country are only exempt from customs duty if they are worth £135 or less. These limits also apply to gifts. Clothes typically attract a 12 per cent customs duty, but it is difficult to generalise.
• VAT: Travellers bringing in goods within their £390 personal allowance are also exempt from paying VAT. Above the personal allowance, they must pay the import VAT at the rate that would apply to the goods if they bought them within the UK. Goods ordered from a retailer abroad are always liable to UK VAT. Gifts sent from an individual abroad are exempt from VAT if they are worth £39 or less. VAT is added to the total value of the item at the prevailing UK rate. The rate is between 0-20 per cent depending on the item.
For example, a £500 dress bought from a European website could attract 12 per cent or £60 customs duty. VAT at 20 per cent is then applied to the total of £560, giving a VAT bill of £112. The dress will cost £672 to the customer in the UK.
Shortage of Labour
In November 2022, 13.3 per cent of businesses surveyed by the Office for National Statistics (ONS) reported a shortage of employees. It is believed that the new immigration rules post- Brexit and the pandemic may have exacerbated the situation. The percentage of businesses experiencing a shortage of workers has been between 12.9 per cent and 15.4 per cent since October 2021. In September-November 2022, there were 1.19 million vacancies in the UK. Meanwhile, businesses reported experiencing difficulties in recruiting employees with the relevant skills.1 In August 2022, the Federation of Small Businesses found that 80 per cent of small firms faced trouble recruiting candidates with the required skill set in the last 12 months. The Recruitment & Employment Confederation estimates that if labour shortages are not addressed, the UK economy will be £39 billion worse off each year from 2024.2
Increased Freight Cost
Supply-chain disruptions caused by the UK's divorce from the EU still lingers for British companies trying to trade in the EU. Following Brexit, transport operations between the EU and the UK have become more expensive and slower. Brexit has brought changes in shipping expenses exceeding what the textile and clothing industry had prepared for. The biggest issue that the textile and clothing industry has dealt with is the increased amount of administrative work required to comply with each EU country's individual export rules, which had never been an issue before Brexit. With increased administrative and regulatory barriers, Brexit is adding transportation costs while disrupting cross-border connections between the UK and the EU in every industry. In the long term, the impact of Brexit on the transportation and logistics industry will likely be even more significant because the introduction of new regulations and tariffs will likely lead to an increase in the cost of doing business, as companies will have to adjust their operations to comply with the new rules. In short, Brexit has resulted in a significant impact on the profit margins of many companies in the industry, and in response, they had to increase prices to remain profitable.
Reduction in Trade
Since 2021, there is a clear decline in the UK's trade with Europe. Trade was hit by a combination of Brexit, COVID-19, and the Russia-Ukraine war. In Figure 1, we can see that the UK imported $9.73 billion of textiles & clothing from EU-27 in 2021, down from $10.24 billion in 2020, and imported $19.59 billion from non-EU countries in 2021, down from $24.10 billion in 2020. In 2022, the UK's imports from non-EU countries increased significantly while imports from EU-27 dropped dramatically. During January- November 2022, the UK's total imports of textiles & clothing from non-EU countries increased by 49 per cent and registered $24.85 billion compared to $16.68 billion during the same period in 2021. On the other hand, during January-November imports from EU-27 countries decreased by 37.58 per cent and were valued at $5.57 billion compared to $8.93 billion during the same period in 2021.
European markets have begun to diversify their supply chains away from the UK as it became both more expensive and difficult to import into the EU from Britain after the transition period ended in January 2021. As we can see from Figures 1 & 2, UK exports and imports to the EU-27 declined in 2021 and 2022 while trade with extra-EU countries is showing continuous growth. The export of textiles & clothing to extra-EU members increased by 18 per cent whereas export to EU member countries decreased by 62 per cent between 2020 and 2021.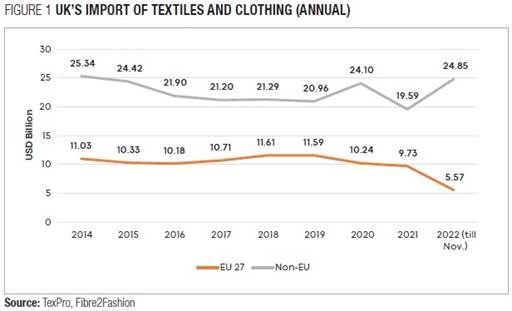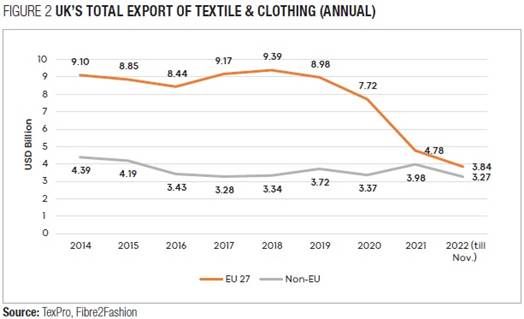 These trade statistics, however, show the impact of Brexit in combination with the COVID-19 pandemic and the Russia- Ukraine conflict. The country's bilateral trade of textile and clothing decreased from $44.86 billion in 2020 to $37.82 billion in 2021, which is an annual decrease of 18.61 per cent within one year. Before Brexit, Germany, Italy, and the Netherlands were amongst the leading trade partners of the UK. However, Brexit has left its mark on trade with these countries as since December 2020, there has been a notable decline in trade. In 2022, the UK's importing quantities from Asian countries such as China, India, Vietnam, Pakistan, and Cambodia increased, while its total textile and clothing imports from Germany decreased by over 46 per cent valued at $0.72 billion compared to $1.34 billion during the same period in 2021.
Delayed Deliveries and Cancelled Orders
Before Brexit, customs regulations were at a minimum for goods moving between the UK and the EU. As far as the paperwork was concerned, shippers only had to worry about preparing a bill of lading (BOL) or other shipping documents. But now, EU retailers sending packages to the UK need to fill out customs declaration forms. Shoppers may also have to pay customs or VAT charges, depending on the value of the product and where it came from. However, customs charges are the responsibility of the consumer, not the retailer, who often has no understanding of how much the final cost might be. This led to many cancelled and returned orders from customers.
Additional Paperwork
Since Brexit, new customs check and compliance with EU VAT rules have created endless difficulties for British manufacturers as they are finding it difficult to get their paperwork right. The whole procedure is quite complex. Each item exported from the UK now needs at least twenty pages of documentation, to show that it conforms with a complete range of EU regulations. Fashion brands are pushed to cover the extra cost themselves as they do not want to risk losing their customers. But absorbing extra costs hits margins, so the brands are increasing the prices of their products. A recent British Chambers of Commerce (BCC) survey of more than 1,168 businesses (92 per cent SMEs) shows significant challenges for UK firms trying to use the Trade and Co-operation Agreement (TCA). 77 per cent of firms trading with the EU said the deal was not helping them to increase sales or grow their business. More than half (56 per cent) reported difficulties adapting to the new rules for exporting goods, and 45 per cent said the same for services.3
In Conclusion
The UK lags behind the other G7 countries in trade recovery after the pandemic. The OECD has predicted that the UK will have the lowest growth rate in the G20 in 2023, except for Russia, which is affected by global sanctions. COVID and the Russia- Ukraine war are mostly held responsible for the poor performance of the UK economy, however, there is factual evidence that Brexit is one of the major reasons behind the country's sluggish growth.
Hopefully, 2023 will be a year of recovery and growth for the UK textile and apparel industry. Many textile and clothing businesses are already taking the necessary steps, in terms of securing alternative suppliers and putting in place the resources to work through the incoming tax and administrative changes but a significant proportion is still behind where they need to be. In such circumstances, EU and UK policymakers need to create a new and stable equilibrium in UK-EU relations and shift towards a more business-friendly approach for the benefit of all their citizens.