KINSELLA: Not-so-Great Britain goes from bad to worse
The cost of Brexit to England's Conservatives should serve as a lesson to conservatives in North America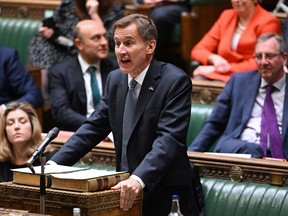 Article content
LONDON — Oh, dear, old chap.
Article content
Is Britain really Great Britain anymore?
Article content
Depends how one defines "great," of course. For sure: Parliament is still sitting (more on that shortly). The Tube is still running. Big Ben is still ticking. But something is decidedly amiss.
One Canadian economist who studied economics at Harvard, and won a spot at the London School of Economics, shakes his head.
Says he: "There's been a steady decline in Britain's GDP — and a rising trade deficit — since Brexit. Rising unemployment, too, as trade-related jobs disappear."
He continues: "The Paris stock exchange — the Bourse — is now for the first time valued at more than the UK stock exchange. The British pound is losing value due to all the political and economic uncertainty — and has dropped in value below the US dollar. Brexit equaled economic madness."
Article content
"Brexit f—– us up," agrees an old friend, an author who was born in Canada but has lived in London for years. "Everyone knows it. But no one knows how to fix the mess."
Evidence of that was easily found on the front pages of British press, Friday morning. The Conservative government of Prime Minister Rishi Sunak issued what is called the "national autumn statement" in London on Thursday, and a mess was everywhere to be seen.
On the Left, The Guardian's front page headline was: "From bad to worse." The Daily Mirror was similarly unenthusiastic — its front page screamed "CARNAGE" and "Millions To Feel Pain After Tory Hell Budget."
Article content
On the Right, the coverage was superficially better — The Daily Express called the budgetary statement "VICTORY." But then, not far below that headline, the paper added: "UK faces highest tax burden since Second World War."
There's a bit of irony, there, because The Daily Express has backed Britain's Conservatives in every single election since the Second World War (only once saying anything nice about the Labour Party in 2001, when Tony Blair was still around, and nobody here thinks Blair was a socialist).
So, when even the UK Tories' biggest booster is acknowledging that important things are bad and getting worse, you know they probably are. So how did once-great Britain get here?
Well, Brexit. Jeremy Hunt is the author of the autumn statement — we'd call him the minister of finance, but at Westminster he is called the Chancellor of the Exchequer — and, not so very long ago, even he strenuously opposed Brexit.
Article content
Britain leaving the European Union would be a disaster, Hunt once said, and cause "an economic shock." In the historic 2016 referendum, Hunt campaigned to stay in the EU.
Nowadays, he doesn't talk about that much. It cost him one run at the Tory leadership — he came a distant second to pro-Brexit Boris Johnson — and he probably now doesn't want to lose the prestige that comes with being Britain's Chancellor of the Exchequer.
We apologize, but this video has failed to load.
But, still. Hunt would be a moron, a fool, if he was not aware of what Brexit has wrought. The carnage, as The Daily Mirror called it.
A sampling:
– Exports of goods to the European Union plummeted by 40% between December 2020 and January 2021, and imports dropped by almost 30%. Barring migrant workers led to a massive labour shortage, which made the trade gap bigger.
Article content
– As noted, GDP (gross domestic product) was 5.2% smaller and investment 14% lower than what they would have been had the UK remained in the EU. In effect, the British economy shrunk and hasn't bounced back.
– There has been a cost to individuals, too: about $2,000 Canadian for each Briton. And the British Parliament's budgetary overseer says the worst is yet to come.
All of which is why Hunt's Fall budget is widely seen as making a bad situation worse. He's hit Britons with higher taxes, wiped out any growth from the past decade, and given the British economy a muscular shove into recession. People's living standards will not get back to where they were for years, said the independent Office for Budget Responsibility.
Article content
RECOMMENDED VIDEO
We apologize, but this video has failed to load.
Politically, the cost of Brexit to England's Conservatives is easy to measure. There have literally been four different prime ministers since Brexit was passed. That doesn't exactly suggest stability.
For North American conservatives, there is a lesson here. Donald Trump favoured Brexit, Joe Biden didn't. Biden won.
Successful Canadian federal conservative leaders have been cautious. Stephen Harper, who won elections, said Canada "must remain neutral" about Brexit. And he was.
Andrew Scheer, however, tweeted that Brexit was "cool," quote unquote, and went on to lose to Justin Trudeau. Erin O'Toole hired the British consultants who pushed for Brexit. He lost his one and only election, too.
Article content
Pierre Poilievre, meanwhile, is a bit cagier. While his "take back control" rhetoric from the Conservative Party leadership race is strikingly similar to the pro-Brexit campaign slogan, his initial enthusiasm for pullout seems to have completely vanished. He's pretty quiet about the subject, these days.
Poor Jeremy Hunt, meanwhile, is lashed to the sinking ship that is Brexit, whether he likes it or not. And the widespread view — among experts and media — is that he's made things measurably worse.
The last rites are now being performed, metaphorically, on his government.
So, if Hunt didn't pick up the papers in the once-great Britain on Friday morning, nobody would have blamed him. There's only so much bad news one can stomach, old chap.
Share this article in your social network