Central bank digital currencies poised to be the foundation of the financial system, BIS says
Recent crash a reminder that crypto universe has many vulnerabilities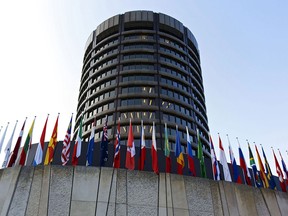 Article content
Central bank digital currencies could make the global financial system more efficient, but their potential could fall short if regulators fail to co-operate, said the Bank for International Settlements' head of research.
Article content
"The technology and the technical issues are not that difficult, but once you have more than one jurisdiction involved, there are the policies and the regulations that of course, need to be reconciled," said the BIS's Hyun Song Shin. "What are some of the legal differences across jurisdictions that might mean that smooth flows might be impeded? So, there are more of these policy challenges that actually rear their heads in the wholesale application."
The BIS, a Switzerland-based institution that helps central banks manage their foreign-exchange assets, will play an important role in the policy discussions that will determine whether central banks join the crypto business, or opt to leave it to private companies such as Visa Inc. and New York-based blockchain technology company ConsenSys. The BIS is owned by 63 central banks, including the Bank of Canada, and it tends to operate as an honest broker between institutions that are subject to very different political influences.
Article content
It has been helping central banks and other financial authorities play catchup on the efficacy of crypto currencies, after many were caught flatfooted by Meta Platforms Inc.'s ill-fated attempt in 2017 to launch a digital unit of exchange that could be used on Facebook. Central bankers and other regulators eventually smothered the attempt, while stepping up their own research on crypto currencies in the process.
In the third chapter of the BIS Annual Economic Report covering digital payments, released June 21, Shin outlined a wave of innovation underway that positions central bank digital currencies, or CBDCs, as the future of the monetary system, arguing that the existing crypto universe of bitcoin and multiple stable coins has structural flaws that make it unsuitable and risky. Shin argues that a system built around central bank infrastructure is more stable and interoperable across borders.
Article content
A few challenges remain unresolved, he said, including how many people should have access to retail central bank digital currencies, or CBDCs, which facilitates payments across individual users accounts, as opposed to wholesale CBDCs, which operate between commercial banks for assets such as security settlements. But perhaps a more challenging issue that will take more finessing is the global regulatory patchwork for digital assets and what degree of regulatory consensus can countries achieve as they explore cross-border payments.
Countries such as Canada and the United States have a more permissive approach to cryptocurrency regulation than jurisdictions such as China, which launched a severe crypto market crackdown in 2021 that banned transactions and mining. China is focused on creating its own digital yuan and is often regarded as the country closest to getting its own CBDC past the finish line, at least among major economies. (Jamaica's central bank introduced a CBDC in 2020.)
Article content
Canada is one of the pioneers of  CBDC research, through initiatives such as Project Jasper in 2016, which explored whether CBDC transactions could be settled on distributed ledger technology. During the fourth phase of the Jasper project, the Bank of Canada along with Payments Canada partnered with the Monetary Authority of Singapore and the Bank of England to explore cross-border and cross-currency payments in the Jasper-Ubin project. The developers released a white paper on the project in 2019 which proposed a technical approach to cross-border payments.
Collaborations such as Jasper-Ubin led Shin to believe that financial regulators will be able to find common ground in how they each approach cross-border payments, despite the differences in jurisdictions and the digital currencies that are being used in each country.
Article content
"We're pretty confident that these things will work," Shin said. Still, policy differences, "will need to be addressed before anything like this is launched in real life and this is where I think it's very important to have a forum where the policy choices are discussed and agreed," he said.
Other issues have been entering the CBDC conversation lately, particularly surrounding privacy. While CBDCs could provide more refined tools for tracking data such as inflation, Shin said it is important to safeguard individual privacy from state surveillance. "We have to safeguard privacy — it's an individual right," Shin said. "There have to be safeguards… not to abuse individual data."
Shin recommended that only a minimal amount of information should be accessible to financial authorities when debit and credit transactions are being made. "It's a little bit double-edged: how can you be fully sure that this data won't be abused?" he said. "So, there's always going to be that doubt (and) there are inevitably going to be policy trade-offs here."
Article content
Another detail that will be double-edged in the rollout of CBDCs is how financial services oligopolies in advanced economies will respond to these new innovations.
One argument is that if CBDCs are widely used, commercial banks could find themselves shoved aside, as consumers and businesses conduct transactions over the networks that support CBDCs. Shin, however, believes this argument is overblown since digital payment innovations have not weighed on banks' profit margins.
At the same time, banks have been more enthusiastic with the wholesale side since innovations in cross-border payments create new business opportunities.
Article content
The major takeaway Shin flagged in his report is that the recent market volatility that saw the price of bitcoin briefly dip below the critical US$20,000 support level over the weekend is a reminder that the crypto universe has many vulnerabilities. Shin added that their deeper structural inadequacies have been known for a while, so focusing on a digital payment network built upon an existing, secure central bank framework is why he sees CBDCs as the future of the monetary system.
"Central banks, as policymakers, it's incumbent on us to really just tell it like it is and not be swayed by the latest buzzwords and the latest fashion," Shin said. "But it's not that we're just party poopers, we're saying there are some useful aspects and the way we put it in the chapter is that there had been a tantalizing glimpse of some of the useful things that people do find attractive (with the crypto universe). But all of those can be done using CBDCs. (What you can do with crypto), you can do with CBDCs."
• Email: shughes@postmedia.com | Twitter:
Share this article in your social network