A self-styled 'bad boy of Brexit' who promised to make "mayhem and mischief" in politics here has lost a long-running libel case against a journalist who alleged he had ties to Russia. Media freedom advocates are hailing it as a win journalism. But is it?     
"There was no way would we want our names disclosed and splashed all around the newspapers, that we had paid money to a political party . . . because once you do in this country, you get crucified," Sir Peter Talley said in evidence at the trial of two men charged with obtaining money by deception paid into bank accounts associated with the New Zealand First Party. 
Many of the dozens of other NZ First Party donors feel the same way as Sir Peter, but the two-week old trial could run for another month yet. 
Under the headline The monied class who funded Winston Peters, Newsroom's co-editor Tim Murphy this week described them as "a small group of wealthy business people who banded together . . . to make Winston Peters kingmaker - and achieve a change of government."
But back in mid-2020 the self-styled Bad Boys of Brexit were only too happy to let it be known they backed NZ First and its leader. 
Multi-millionaires Arron Banks and Andy Wigmore bankrolled the big money Leave.EU campaign which was fined for overspending by the UK's electoral commission – but only after Britons were persuaded to vote for Brexit in 2016. 
In July 2020 they told a British newspaper they were sending a team to New Zealand to help NZ First in the upcoming election here by creating "mischief, mayhem and guerrilla warfare."
In an odd interview with Newshub's Europe correspondent Lloyd Burr, they promised to deliver 'Winston on steroids' and at least 13 per cent of the vote for NZ First in 2020. 
It turned out to be just bluster, but Arron Banks was back in the headlines this week in the UK when he lost a libel case in court there – an outcome some have hailed as a major win for press freedom. 
Back in 2019, investigative reporter Carole Cadwalladr – a key figure in exposing the scandal of Facebook and Cambridge Analytica – said in a TED talk that Banks had lied about a covert relationship to the Russian government. 
Her talk was based on years of reporting for UK papers The Guardian and The Observer, but Arron Banks insisted he had no such ties to Russia and he sued her for libel personally.
It was a long and expensive case to defend which forced Carol Cadwalladr to crowdfund. She would have been financially and professionally ruined if she lost. 
But this week a British judge found although the comments were damaging to Banks, Carol Cadwallader had acted in the public interest when she made the statement – because. Banks was being investigated by the UK's National Crime Agency and Electoral Commission at the time. 
And there was an unexpected Kiwi link to this when New Zealand freelance journalist Tom Mutch – recently reporting on the ground from the war in Ukraine – revealed that he was a part of the story. 
"It is obscene that a libel case over a single sentence took three years and cost millions. A damning indictment of the UK courts," he said on Twitter this week.
But the judgment also said the disputed claim had caused harmed Banks' reputation and Cadwalladr acknowledged she couldn't prove it. 
Mr Banks' lawyers say Cadwalladr was not acting on behalf of any newspaper but rather as an individual when she made the allegations. Allegations previously published in the Observer were different to those made in the TED talk – and he could not sue the TED organsiation because it is based in the US. 
So was this really a big win for journalism and media freedom?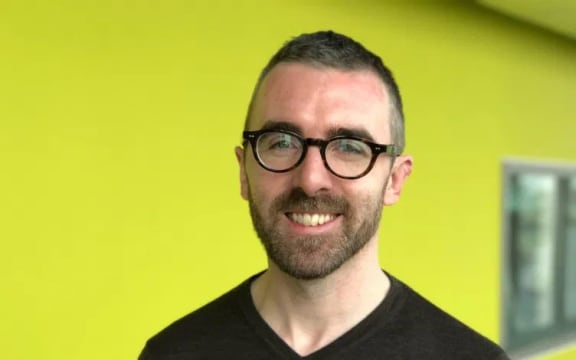 Peter Geoghegan
Photo: supplied
"It's not necessarily about who-said-what, it's the bigger question why this has to end up in a High Court? Why does it have to cost millions of pounds for this to happen? These huge, huge legal battles which take place in courtrooms and are incredibly costly for everyone, both the plaintiffs and the defendants," said Peter Geoghegan, director and chief editor of the UK's Open Democracy Foundation which has also investigated foreign financing of politics there. 
"People with power, money and influence have been able to take investigative journalists to court causing huge harm for them in many respects," he told Mediawatch. 
"It's a really significant moment I think for journalists investigative reporters and others who have long argued this public interest should be able to defend us a lot more than it currently does," he told Mediawatch. 
"It is important put down in in law, the idea that there's a public interest in investigative reporting. There's no way that you could see this as not being a victory for media freedom. I've had many threats hanging over me. It is a very stressful and anxiety-ridden experience," he said.  
On the BBC's Media Show this week, Carol Cadwallader talked about how the case had dominated her life and stalled her investigative journalism. 
The UK's National Union of Journalists said it was another example of 'strategic lawsuits against public participation'  – or SLAPP cases: legal action taken against journalists or whistleblowers to silence them. 
However, the judge in this libel trial said it wasn't actually "fair or apt" to describe this as such a case.
"It's not the only defamation case that's been going through the courts defamation law in the UK. We regularly receive legal threats from international oligarchs and people use the City of London to launder money," Geoghegan said.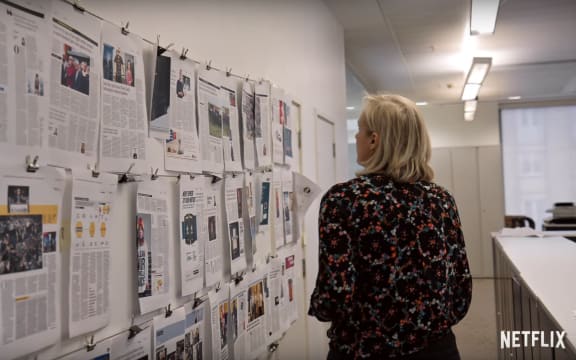 Guardian investigative journalist Carole Cadwalladr at work on the Cambridge Analytica story in The Great Hack.
Photo: Netflix
"This is rarely about an actual courtroom battle. What you saw with Aaron Banks and Carole Cadwalladr and even with Johnny Depp and Amber Heard in UK courts is quite unusual. We rarely see defamation cases ending up actually in court. They drag on the background for years and years, they take up huge amounts of journalistic time and resources. And that is the point of them. They have a chilling effect on reporting," he saidAdd Author
Carol Cadwallader on the BBC's Media Show she was upset by the lack of coverage of the outcome? She said there no news media court reporters there at all on some days during the trial, even though it involved the biggest political donor to any campaign in the UK's history, who had also influenced secure Brexit vote. 
"You're perfectly entitled report on court cases, but many reporters and news editors were like: 'Let's not get too involved with this. Let's not have any potential damage for us.' You can never underestimate the kinds of concerns of editors and titles for tha. I hope that this is going to change now on the back of this judgment – and journalists will see there's a huge value in reporting on these cases and showing solidarity with one another," he said.