What's happening? The U.K. Prime Minister's job is on the line after he attended a party during a Covid lockdown, and the Foreign Secretary faces a tricky choice on Brexit.
Boris Johnson's own supporters in the ruling Conservative Party say he's skating on thin ice after admitting he attended a gathering of 30 people during lockdown. The U.K. prime minister said he only showed up to see the festivities in Downing Street's garden for 25 minutes because he thought it was a "work event." Some Conservatives have joined the opposition Labour Party in calling for his resignation. His fate hinges on report probing the incident. Eurasia Group sees a 55% chance he'll step down this year.
One of the frontrunners to replace Johnson is Foreign Secretary Liz Truss. She enters the latest round of post-Brexit negotiations over Northern Ireland facing a tricky choice between picking a fight with the European Union that would curry favor with her Conservative Party faithful or cutting a deal to avert a trade war. Having taken responsibility for the talks following the resignation of former Brexit chief David Frost in December, she's due to meet European Commission Vice President Maros Sefcovic at her country residence for their first in-person meeting. 
Johnson's departure would be an upside risk for the U.K. economy, according to Berenberg. Economist Kallum Pickering says the prime minister has weighed on business investment and assets for five years. Instead, he suggested Chancellor Rishi Sunak would make a more sensible leader than Johnson. With the main Brexit negotiations out of the way, Nomura said it matters less now for sterling who leads the country. Pound traders' eyes are more on the Bank of England than "partygate."
Washington is monitoring talks between London and Brussels on the island of Ireland and urging both sides to find a solution, U.S. President Joe Biden's trade chief Katherine Tai said. Her comments came after Truss said she would use Article 16 of the Northern Ireland protocol if the EU won't bend on Northern Ireland, laying out her position in the Sunday Telegraph.
The U.K. and India start negotiations on a post-Brexit trade deal on Thursday, with U.K. Trade Secretary Anne-Marie Trevelyan meeting her Indian counterpart Piyush Goyal in New Delhi. In 2019, trade with India was equivalent to about 3% of the U.K.'s total trade with the EU.
We aim to keep you up to date on how the U.K. navigates the world after Brexit. Got tips or feedback? Email us at beyondbrexit@bloomberg.netor  eburden6@bloomberg.net
Chart of the Week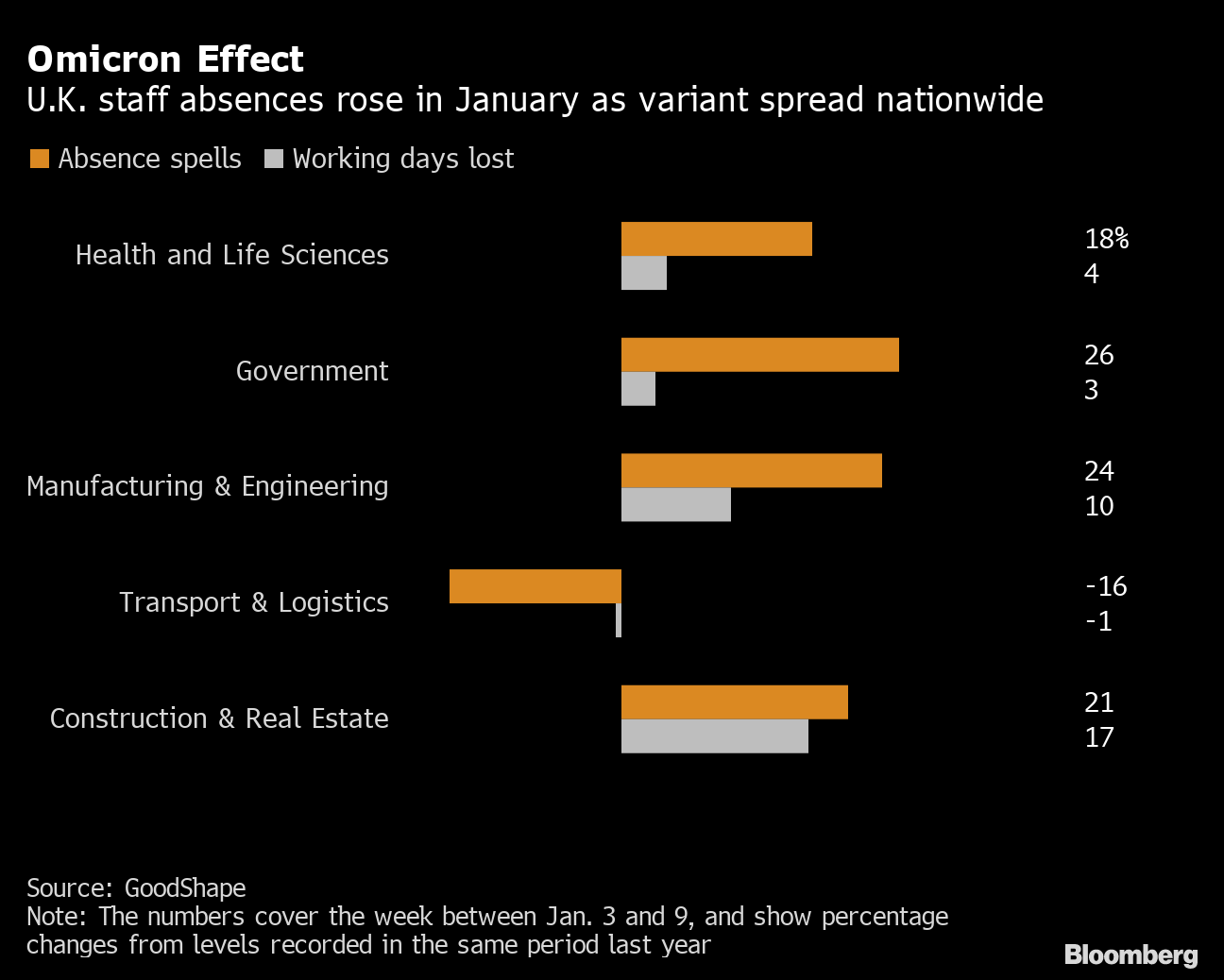 Attempting to defend Johnson, some Conservative MPs cited his seeming vindication over not imposing a lockdown as the omicron variant of the coronavirus took hold. Covid hospitalizations and deaths have not surged dramatically even though 3 million people were off sick in the first week of the year. Absenteeism could shave 8.8% off U.K. economic output in January and February, according to the Centre for Economics and Business Research. A lockdown might have been more damaging. To limit disruption, Johnson is weighing plans to cut the isolation period required of those who catch the virus. Senior minister Michael Gove told Sky News the U.K. was moving to a stage where it could "live with Covid."
Don't Miss
Want to keep up?
You can follow us @BloombergUK on Twitter, and listen to Bloomberg Westminster every weekday.
Share Beyond Brexit: Colleagues, friends and family can sign up here. For full EU coverage, try the Brussels Edition.
Get More From Bloomberg
You can find all of our newsletters here, but here are some we think you'd particularly enjoy:
Bloomberg is also tracking the progress of coronavirus vaccines and mapping the pandemic. Sign up here for our Coronavirus Daily newsletter and here for our podcast.
Subscribe to Bloomberg.com for unlimited access to trusted, data-driven journalism and expert analysis.