What's happening? An official report finds Britain failed to prepare for the coronavirus pandemic because resources were concentrated on Brexit, and there's still hope of a negotiated settlement on Northern Ireland.
Brexit distracted the U.K. from preparing for the pandemic. That's according to an official report that concluded more than half of government staff responsible for emergencies were focused on fending off disruption from a no-deal departure from the European Union, limiting their ability to look at other risks. It adds to pressure on Prime Minister Boris Johnson over his pandemic decision-making, ahead of a public inquiry due to start next spring. The U.K. not only recorded the highest death toll in Europe — over 140,000 so far — but suffered the sharpest economic hit among the Group of Seven developed nations.
U.K.-EU relations over Northern Ireland haven't broken down yet. Britain will hold off suspending parts of the Brexit deal relating to the region and keep negotiating with Brussels. 
A top German diplomat warned that the dispute over the issue is "not a game", urging his British counterparts to "come to your senses." 
U.K. Trade Secretary Anne-Marie Trevelyan told the Daily Telegraph newspaper Article 16 would "absolutely not" be invoked before Christmas. 

Johnson spoke to his Irish counterpart Micheal Martin on Wednesday, agreeing that a negotiated settlement is the preferred outcome. 

U.K. Brexit Minister David Frost meets European Commission Vice-President Maros Sefcovic in London on Friday.
Business will be relieved that tensions have cooled for now. The Confederation of British Industry, Britain's biggest business lobby group, had urged the government to back down on threats to trigger Article 16.
France and Britain aren't getting on, though. They traded blows over who's to blame for the deaths of at least 27 migrants after their boat capsized in the English Channel on Wednesday as the people tried to cross the dangerous shipping passage in rough autumn weather. One of the dead was an Afghan soldier who worked for British forces. More than 25,000 people are estimated to have arrived in the U.K. from France in small boats this year, about three times as many as in 2020.
It didn't help that Paris and London are still fighting over fishing licenses, with France toughening its tone. Although fish represents only a small share of both the French and British economies, the stakes are especially high for French President Emmanuel Macron, who faces re-election next year. "We will fight license after license, boat after boat," French Foreign Affairs Minister Jean-Yves Le Drian said, calling U.K. Prime Minister Boris Johnson a "populist" who uses "every element at hand to reinforce his political power in Britain."
Meanwhile, tens of thousands of EU citizens are still applying to remain in the U.K. months after the government's post-Brexit deadline, a sign that many businesses may be employing people without so-called settled status. Immigration lawyers say people are only discovering that they don't have the right papers as they start traveling again or when they try to change jobs. And though the government appears to be taking a flexible approach to late applications, mixed messaging and a lack of clarity around how such workers may be dealt with in the future is creating uncertainty for industries like hospitality that rely on EU talent.
Europe's biggest low-cost airline Ryanair dropped its London listing over Brexit compliance hassles — the first major company to do so. That's because EU-based carriers must be owned and controlled from within the EU so post-Brexit, U.K. nationals don't qualify anymore. "The volume of trading of the shares on the London Stock Exchange does not justify the costs," the company said, confirming plans set in motion earlier this month. Its largest operation at London Stansted won't be affected. Chief Executive Officer Michael O'Leary said the British Airways owner IAG might be the next to be broken up to meet the rules.
Finally, Amsterdam hit a record year for initial public offerings. Data compiled by Bloomberg show the Dutch city, home to the world's oldest stock exchange, has hosted 20 IPOs so far in 2021 for its highest-ever haul of 10.4 billion euros ($11.7 billion). It also attracted more special purpose acquisition companies than any other venue in the region, thanks to benign regulations and a deep pool of investors. Even so, London's IPO market remains by far the biggest in Europe.
We aim to keep you up to date on how the U.K. navigates the world after Brexit. Got tips or feedback? Email us at beyondbrexit@bloomberg.net or eburden6@bloomberg.net
Chart of the Week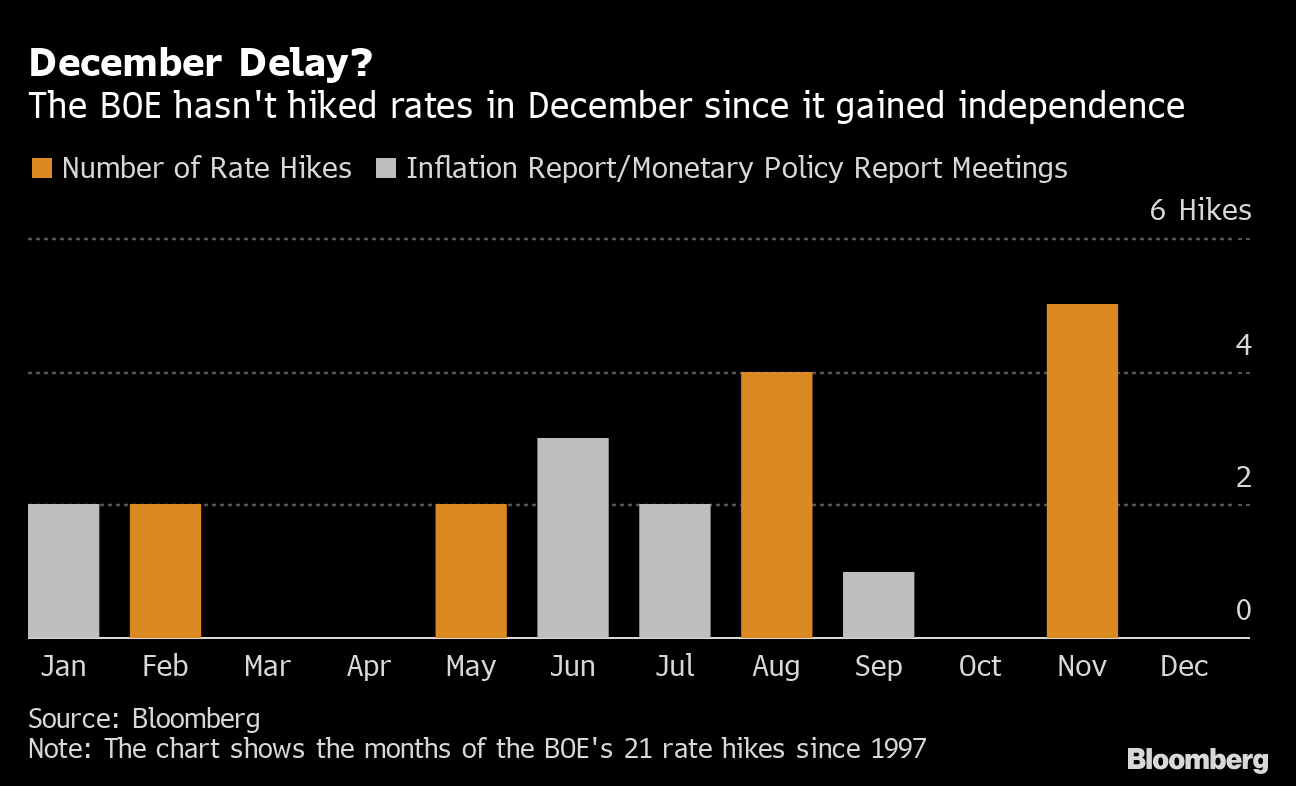 Markets are convinced the Bank of England will hike interest rates in December but history suggests the Old Lady of Threadneedle Street doesn't like to play the grinch. The U.K. central bank has only raised rates once in the month over the past 45 years and the next decision is little more than a week from Christmas. What's more, only eight of the BOE's 21 hikes since 1997 have come in months where it hasn't also delivered its economic forecasts through its Inflation Report, or its current incarnation as a Monetary Policy Report. 
Don't Miss
Want to keep up?
You can follow us @Brexit on Twitter, and listen to Bloomberg Westminster every weekday.
Share Beyond Brexit: Colleagues, friends and family can sign up here. For full EU coverage, try the Brussels Edition.
Get More From Bloomberg
You can find all of our newsletters here, but here are some we think you'd particularly enjoy:
Bloomberg is also tracking the progress of coronavirus vaccines and mapping the pandemic. Sign up here for our Coronavirus Daily newsletter and here for our podcast.
Subscribe to Bloomberg.com for unlimited access to trusted, data-driven journalism and expert analysis.