What's happening? New talks over Northern Ireland, while Britain's biggest port diverts ships because of the ongoing trucker shortage.
The EU and U.K. are now braced for anotherround of talks over trade barriers in Northern Ireland, after the bloc unveiled a set of proposed adjustments to the part of the Brexit deal that governs the movement of goods into and out of that region. Those concessions include slashing customs checks into Northern Ireland by half and cutting sanitary inspections on many retail goods by 80%.
The EU proposal means a trade war could be averted but fails to address key U.K. demands, laid out by Brexit minister David Frost in a lengthy speech, which include the oversight of the European Court of Justice.
More: Why everyone's talking about Northern Ireland again
If London doesn't comply with its commitments on fishing rights, France warned it may trigger retaliation measures by the end of next week. A French minister indicated that could threaten Britain's electricity supplies. But Paris said it won't cut power to the island of Jersey.
The world's biggest shipping line, A.P. Moller-Maersk A/S, said it had to divert some ships from Felixstowe, the U.K.'s largest container port. The move was due to congestion at the port caused by a trucker shortage, which clogged the flow of cargo boxes into and out of the country. The U.K.'s port problems are part of a global disruption, but Brexit made it worse by choking off access to drivers who live in the EU. 
A more muscular approach to mergers has thrust the U.K.'s competition regulator into the spotlight. The Competition and Markets Authority has taken on extra powers to probe international deals that until Brexit were under the exclusive remit of the European Commission's antitrust regulator. The British agency is now showing it's not afraid to intervene in deals that other regulators push through. So far this year, the CMA has provisionally blocked Facebook Inc.'s acquisition of Giphy Inc. and JD Sports Fashion Plc's purchase of smaller rival Footasylum Plc, for the second time. 
Seeking to boost London's standing as a global financial center, the U.K. government is looking to ease the rules for companies seeking to raise cash. A wide-ranging review focuses on reducing the time it takes to launch stock offerings. It would also help retail investors to participate in fundraising and identify new technologies. The aim is to make the capital- raising process more efficient for London-listed companies.
We aim to keep you up to date on how the U.K. navigates the world after Brexit. Got tips or feedback? Email us at beyondbrexit@bloomberg.net or  eburden6@bloomberg.net
Chart of the Week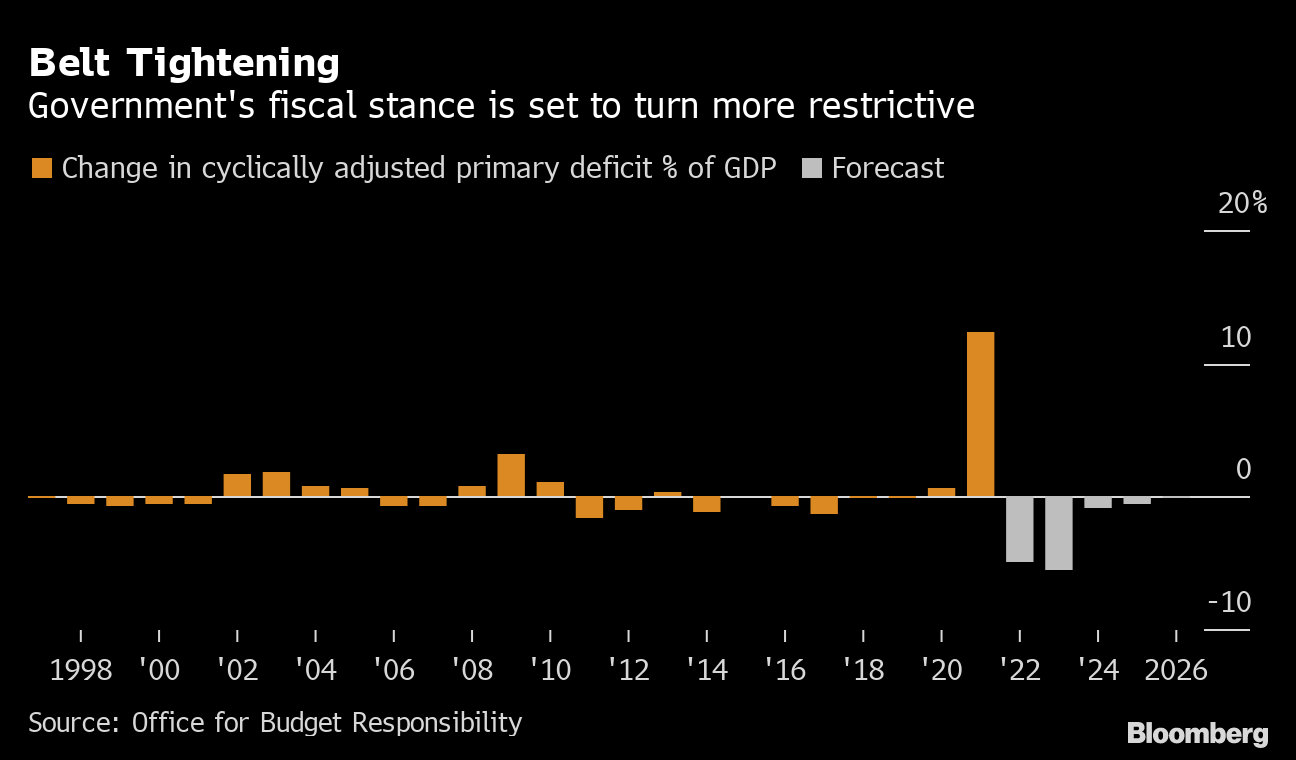 British policy makers won praise for a quick, bold and coordinated response to the pandemic last year. Now the Bank of England and the U.K. Treasury are preparing for the U.K. to be among the first leading industrial nations to whip away that support. The speed of policy reversal risks complicating what's likely to be a difficult winter for Britain, which is facing up to slower growth, widespread labor shortages and a cost-of-living crunch for its poorest citizens.
Don't Miss
Want to keep up?
You can follow us @BloombergUK on Twitter, and listen to Bloomberg Westminster every weekday.
Share Beyond Brexit: Colleagues, friends and family can sign up here. For full EU coverage, try the Brussels Edition.
Get More From Bloomberg
You can find all of our newsletters here, but here are some we think you'd particularly enjoy:
Bloomberg is also tracking the progress of coronavirus vaccines and mapping the pandemic. Sign up here for our Coronavirus Daily newsletter and here for our podcast.
Subscribe to Bloomberg.com for unlimited access to trusted, data-driven journalism and expert analysis.