Welcome to the Brussels Edition, Bloomberg's daily briefing on what matters most in the heart of the European Union.
Brexit battles aren't going away. The U.K. seems determined to escalate its fight with the EU over Northern Ireland, effectively rejecting the latest compromise from Brussels before it's even been presented. David Frost, Britain's Brexit minister, delivers a speech in Lisbon tomorrow where he plans to tell diplomats that a major revision of the Northern Ireland protocol is a "prerequisite" for better relations with the bloc. The U.K. has even drafted some changes it wants, but Brussels has ruled out any renegotiation of the pact that covers trade flows to Northern Ireland. Instead, the EU is planning to over some proposals for new flexibility when it comes to areas like medicines, food safety and customs. While Prime Minister Boris Johnson has threatened to suspend the accord — a move that could trigger massive trade disruptions — the EU seems to feel it has the upper hand, particularly after the U.K. was nearly crippled by Brexit-related gasoline shortages. It could be a long battle ahead if Johnson doesn't back down. Again.
What's Happening
Czech Shock | Czech Prime Minister Andrej Babis suffered a surprise, razor-thin defeat in general elections, setting the stage for protracted political wrangling over forming a new government that may eventually force the scandal-plagued billionaire from power. But the day after the vote, President Milos Zeman was rushed to the hospital over complications related to his chronic health problems, a development that may snarl negotiations.
Austrian Turmoil | Austrian Foreign Minister Alexander Schallenberg has begun trying to salvage the nation's ruling coalition after the resignation of Sebastian Kurz as chancellor. The 35-year-old was felled by a bribery scandal, a stunning blow for a rising star of European conservative politics that will reshape EU dynamics as well. Kurz often aligned himself with fiscal hawks, while allowing Hungary's Viktor Orban to test the bloc's limits. 
Polish Protests | As many as 100,000 Poles took to the streets in Warsaw's historic old town yesterday to show support for EU membership after a controversial court verdict plunged relations with the bloc to a new low. EU officials had been preparing to grant conditional approval of Poland's delayed recovery fund but now may be forced into a much longer standoff. 
More Brexit | The EU and U.K. begin talks on Gibraltar's status today, as the two sides aim to resolve another thorny post-Brexit dispute relating to the movement of people and goods to the territory. London "remains steadfast in our support for Gibraltar & will not agree anything that compromises sovereignty," U.K. Foreign Secretary Liz Truss tweeted.
In Case You Missed It
Fiscal Strife | Talks to form a three-way coalition government in Germany risk getting bogged down over finance and budget matters. While the liberals oppose loose spending, the Greens co-leader urged debt relief for southern European countries hurt badly by the coronavirus, warning that deep cuts to social programs could otherwise pave the way for fascism.
Draghi's Push | In his renewed push for growth-friendly measures to overhaul Italy's economy, Prime Minister Mario Draghi will hit the same hurdles that stymied many of his predecessors. Here's a closer look at the challenges the former ECB chief faces.
Greener Europe | Europe's first green bonds are finally arriving, and investors are gearing up for an "absolute riot" of demand. This week's EU sale will be the starting salvo for as much as 250 billion euros of such assets that will make it the world's biggest green borrower. 
Power Aid | France will meet with energy-intensive industries on Oct. 19 in an attempt to help them cope with soaring prices. European natural gas has jumped more than fourfold this year, prompting some chemicals manufacturers to temporarily shut operations to stem losses.
Chart of the Day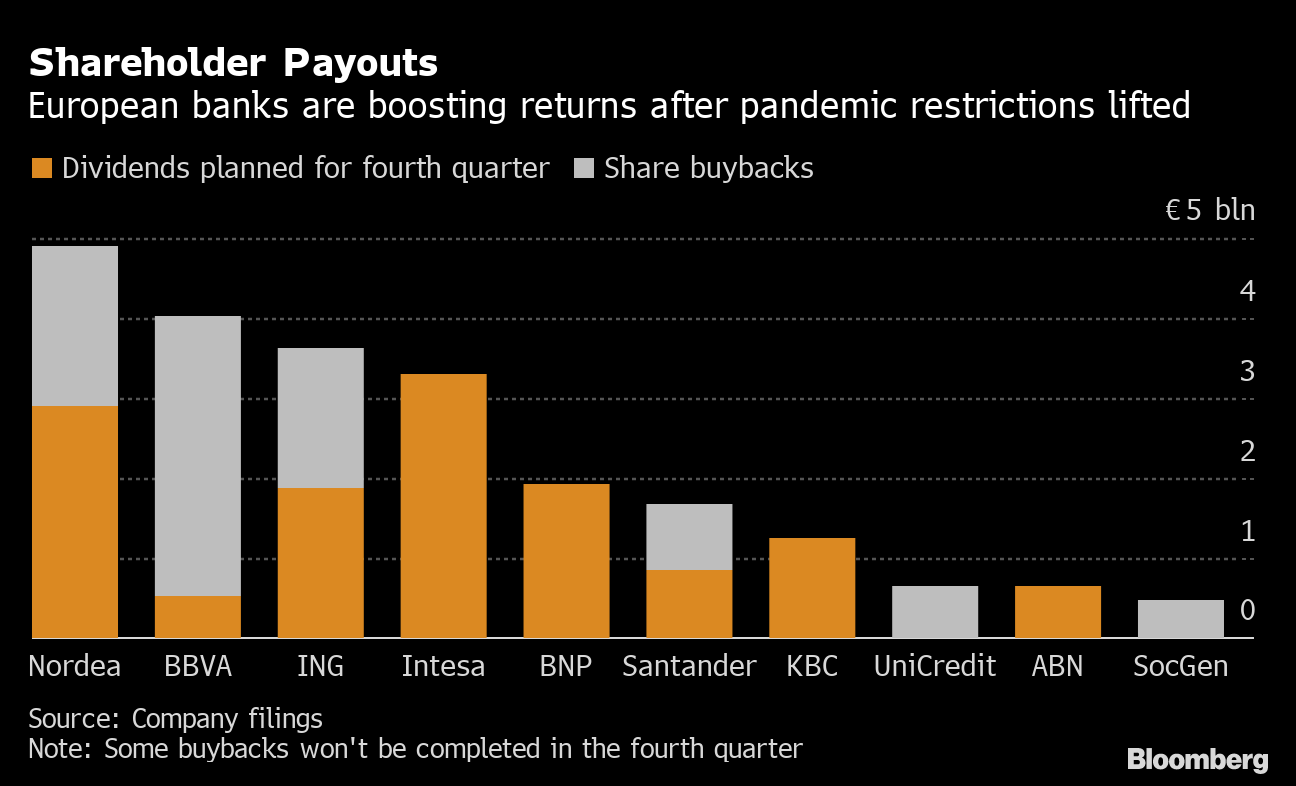 European banks are signaling they want to boost returns next year as economies recover from the Covid-19 pandemic, but an EU push for stricter capital rules could weigh on such plans. Lenders expect the Commission to disregard their plea to retain significant freedom to assess the riskiness of their own loans, as the region implements the global bank standards known as Basel III. An EU proposal on the subject is expected this month, after which member states have their say. 
Today's Agenda
All times CET.
10:30 a.m. NATO Secretary General Jens Stoltenberg in Lisbon for NATO Parliamentary Assembly
German coalition talks between the Social Democrats, Greens and Free Democrats continue in Berlin
EU climate chief Frans Timmermans participates in the Global Methane Pledge Meeting with U.S. climate envoy John Kerry
EU foreign policy chief Josep Borrell participates at the NDICI-Global Europe Geopolitical Dialogue with the European Parliament
EU-U.K. talks on Gibraltar open
Agriculture and fisheries ministers meet in Luxembourg to discuss the EU Forestry Strategy and the climate plan
Like the Brussels Edition?
Don't keep it to yourself. Colleagues and friends can sign up here.
For even more: Subscribe to Bloomberg.com for unlimited access to trusted, data-driven journalism and gain expert analysis from exclusive subscriber-only newsletters.
How are we doing? We want to hear what you think about this newsletter. Let our Brussels bureau chief know.
Before it's here, it's on the Bloomberg Terminal. Find out more about how the Terminal delivers information and analysis that financial professionals can't find anywhere else. Learn more.