The U.K. this week delayed a looming wave of new post-Brexit border checks, seeking to give respite to firms already struggling with supply shortages linked to the pandemic and quitting the European Union.
With supermarkets and retailers battling a lorry-driver shortfall, significant employee vacancies and inflated shipping and commodity costs, the prospect of an extra customs burden on EU food imports from Oct. 1 threatened further disruption in the build-up to the busy Christmas period.
The new customs checks on food will now start in July 2022. The British government described the move as a pragmatic delay that gives companies more time to prepare. The EU is the source of about 30% of all food consumed in Britain, according to the British Retail Consortium.
But not everyone was pleased: The U.K.'s biggest food and drink lobby group criticized the policy for creating an unfair playing field between British and European firms.
Explain This: U.K.'s Truck Driver Shortages
"The asymmetric nature of border controls facing exports and imports distorts the market and places many U.K. producers at a competitive disadvantage with EU producers," said Ian Wright, chief executive of the Food and Drink Federation. The U.K.'s stance "undermines trust and confidence among businesses," he said.
Wright has also warned of "permanent" shortages of some food products in Britain in the post-Brexit era, with consumers no longer able to expect that they can get whatever they want in shops.
All the while, Boris Johnson's government is refusing to deploy temporary visas for EU workers to plug labor gaps — the supply-chain crisis is global, his ministers insist, and inward migration wouldn't help.
—Joe Mayes in London
Charted Territory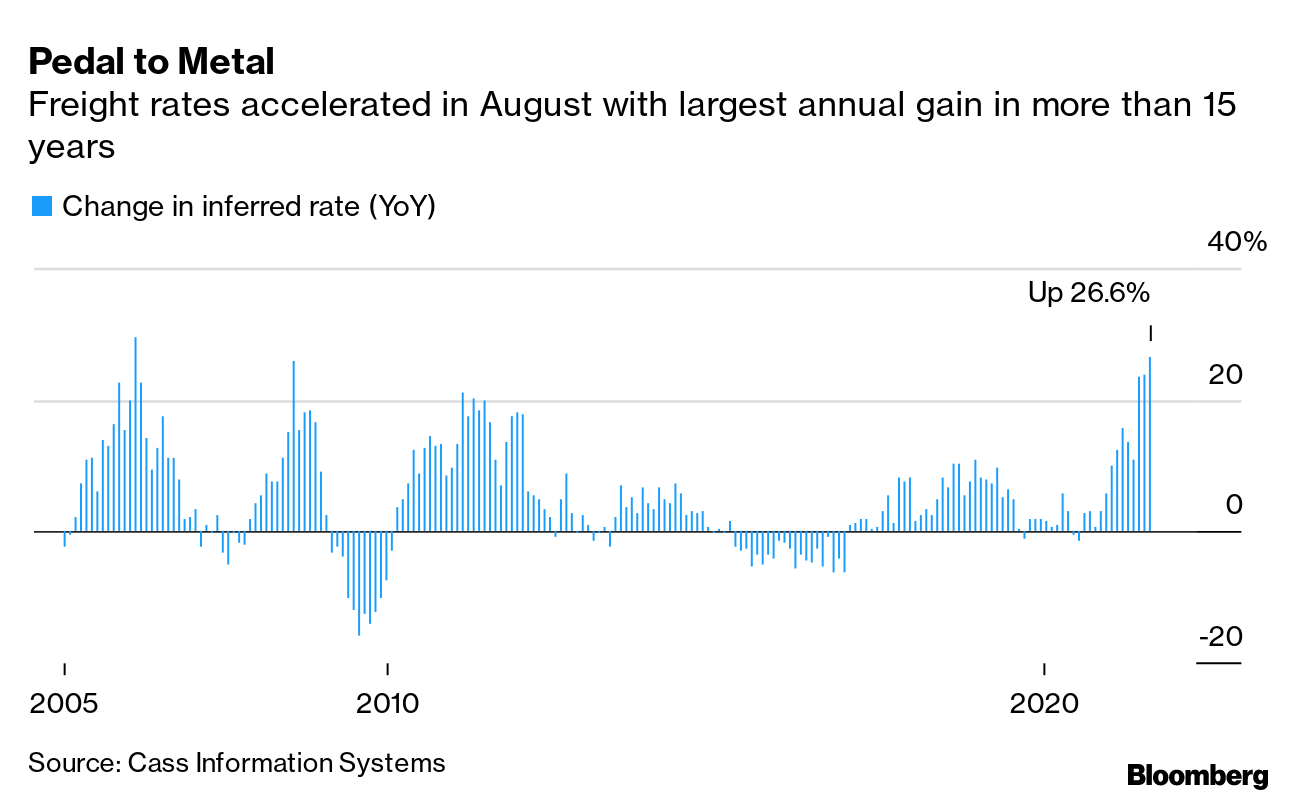 The cost of shipping freight in the U.S. continued to rise in August as equipment and labor-capacity constraints persisted. A measure of freight rates jumped 26.6% from a year earlier, the sharpest increase since February 2006, based on the latest figures from Cass Information Systems. The gain followed a 23.8% increase in July and marked the third straight month of acceleration.
Today's Must Reads
On the Bloomberg Terminal
Steel resolve | European steel producers continue to benefit from the post-pandemic recovery, and though prices and margin have pulled back from record levels, a tight supply-demand picture remains, Bloomberg Intelligence says.
Lots brewing | Robust free cash flow may ease slightly on various pressures globally, including wage inflation and supply-chain challenges, but Starbucks's management's coffee hedges could soften headwinds, Bloomberg Intelligence says.
Use the AHOY function to track global commodities trade flows.
Click HERE for automated stories about supply chains.
See BNEF for BloombergNEF's analysis of clean energy, advanced transport, digital industry, innovative materials, and commodities.
Click VRUS on the terminal for news and data on the coronavirus and here for maps and charts.
Like Supply Lines?
Don't keep it to yourself. Colleagues and friends can sign up here. We also publish the New Economy Daily, a briefing on the latest in global economics.
For even more: Follow @economics on Twitter and subscribe to Bloomberg.com for unlimited access to trusted, data-driven journalism and gain expert analysis from exclusive subscriber-only newsletters.
How are we doing? We want to hear what you think about this newsletter. Let our trade tsar know.