What's happening? The Northern Ireland protocol will keep operating on the current basis, and U.K. exports of food and drink to Europe plunge.
The U.K. extended grace periods that were meant to end this month for trade between Great Britain and Northern Ireland, as it continues discussion with the European Union to defuse one of the most contentious issues of their divorce. Brexit minister David Frost said the Northern Ireland protocol will continue to operate on the current basis, postponing bans on chilled meats and fresh sausages going into the province from the rest of the U.K. and more customs checks on food products.
The Democratic Unionist Party is not happy about the extension. Its leader, Jeffrey Donaldson, threatened to withdraw ministers from Northern Ireland's government to force the removal of the protocol, which he said is "not just a threat to the economic integrity of the United Kingdom, it is having real world impacts on our economy."
Brexit-related transport disruption is pushing up input prices for more than half of small and medium-sized Irish food and agribusinesses, according to a sentiment survey conducted for IFAC. Companies said price increases could be passed on to consumers in the coming months.
Europeans bought the least amount of food and beverages from the U.K. since at least 2012 in the first half of this year, according to the Food and Drink Federation. Exports of British food and drink to non-EU countries rose 13%, but that didn't compensate for the loss of £2 billion of sales to the EU.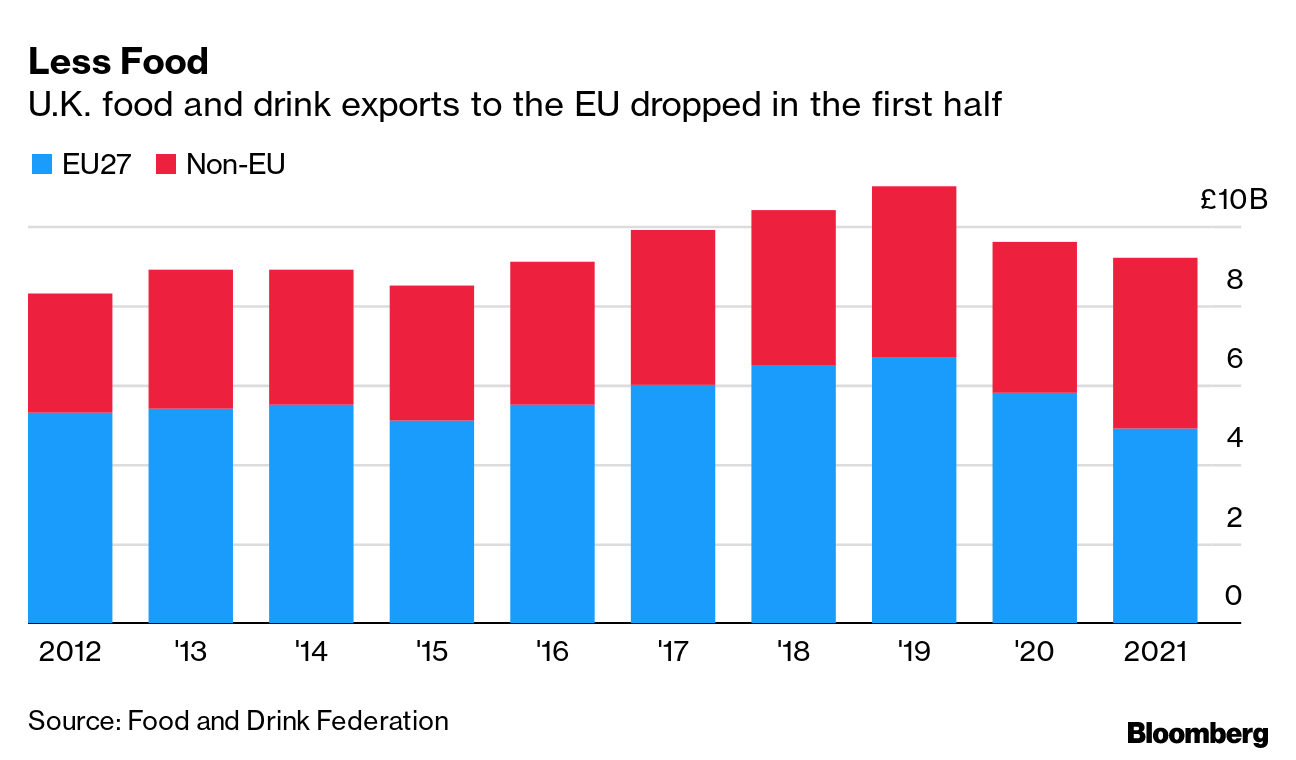 London's post-Brexit role in the global financial system will be eroded further without changes to taxes, visas and international investment, one of the City's main lobbying groups warned. TheCityUK said there were already signs that British financiers were losing ground to other hubs, particularly in Asia.
After months of speculation, U.K. Prime Minister Boris Johnson announced plans to fund the National Health Service and social care with a tax that has long attracted criticism for perpetuating generational inequality. Chancellor Rishi Sunak also said he'll set his annual budget on Oct. 27 alongside a three-year spending review.
Finally, there's no stopping the momentum in U.K. house price growth, despite the tapering of a tax break on purchases and Brexit fears. Low borrowing costs, supply shortages, savings accumulated during lockdowns and pandemic-driven demand for bigger homes away from cities are supporting the market, Halifax said.
We aim to keep you up to date on how the U.K. navigates the world after Brexit. Got tips or feedback? Email us at beyondbrexit@bloomberg.net
Chart of the Week
Labor shortages — in roles from fruit pickers and factory workers to mechanical engineers — are disrupting supply chains and could last as long as two years, damaging the post-pandemic recovery. That was the warning from Tony Danker, head of the CBI, the U.K.'s biggest business lobby.
Still, turning to the bloc for help would amount to a tacit admission of an advantage of EU membership, according to Julian Jessop, an economics fellow at the Institute of Economic Affairs, a free-market think-tank. "They don't want to admit that free movement of workers has brought some benefit to the U.K.," he said.
Don't Miss
Want to keep up?
You can follow us @Brexit on Twitter, and listen to Bloomberg Westminster every weekday.
Share Beyond Brexit: Colleagues, friends and family can sign up here. For full EU coverage, try the Brussels Edition.
Get More From Bloomberg
You can find all of our newsletters here, but here are some we think you'd particularly enjoy:
Bloomberg is also tracking the progress of coronavirus vaccines and mapping the pandemic. Sign up here for our Coronavirus Daily newsletter and here for our podcast.
Subscribe to Bloomberg.com for unlimited access to trusted, data-driven journalism and expert analysis.