What's happening? It's the end for Arlene Foster, and European Union lawmakers finally approve the post-Brexit trade deal.
Months of pressure came to a head when Northern Ireland's First Minister Arlene Foster said she'd step down as first minister and head of the pro-British Democratic Unionist Party. Critics say she failed to oppose the Brexit deal strongly enough, particularly the trade border it imposed in the Irish Sea. They say it undermines Northern Ireland's place in the U.K.
More instability is the likely result for Northern Ireland, which remains riven by decades of sectarian strife. Peter Flanagan explains what's next for politics on the island. If you're wondering about the prospects of Irish reunification, here's a handy Quicktake by Dara Doyle.
After four years of political brinkmanship, EU lawmakers backed the post-Brexit trade deal with the U.K., marking the final step in the ratification process. European Commission President Ursula von der Leyen warned that the bloc won't hesitate to act if Britain breaches the terms of the deal, which she said would be instrumental in bolstering the bloc's single market and avoiding a chaotic rupture.
If Britain doesn't respect commitments on fishing, France will block regulations that would allow U.K. financial firms to do business in the bloc. That's according to Clement Beaune, French junior minister for European affairs, who said Brexit was a "good deal" but shouldn't be a "blank check" and that retaliations for non-compliance could also include tariffs.
Brussels filed a lawsuit against AstraZeneca, raising the stakes in the spat between the drugmaker and the EU's 27 governments over vaccine deliveries. A judgement is due in three to seven weeks. Astra's shares fell briefly on the news. 
The U.K. and Australia agreed to most of a free-trade agreement, with a deal between the countries now expected in June, International Trade Secretary Liz Truss said Friday. Even if the accord is only projected to add 0.02% to U.K. GDP over 15 years, it'd give Brexiteers a political boost.
Finally, to fill your daydreams of how to spend your post-pandemic freedom, the Museum of Brexit has procured its first items: a weighing scale and a fishing net used the first day the U.K. "took back control" of its territorial waters.
We aim to keep you up to date on how the U.K. navigates the world after Brexit. Got tips or feedback? Email us at new beyondbrexit@bloomberg.net
Chart of the Week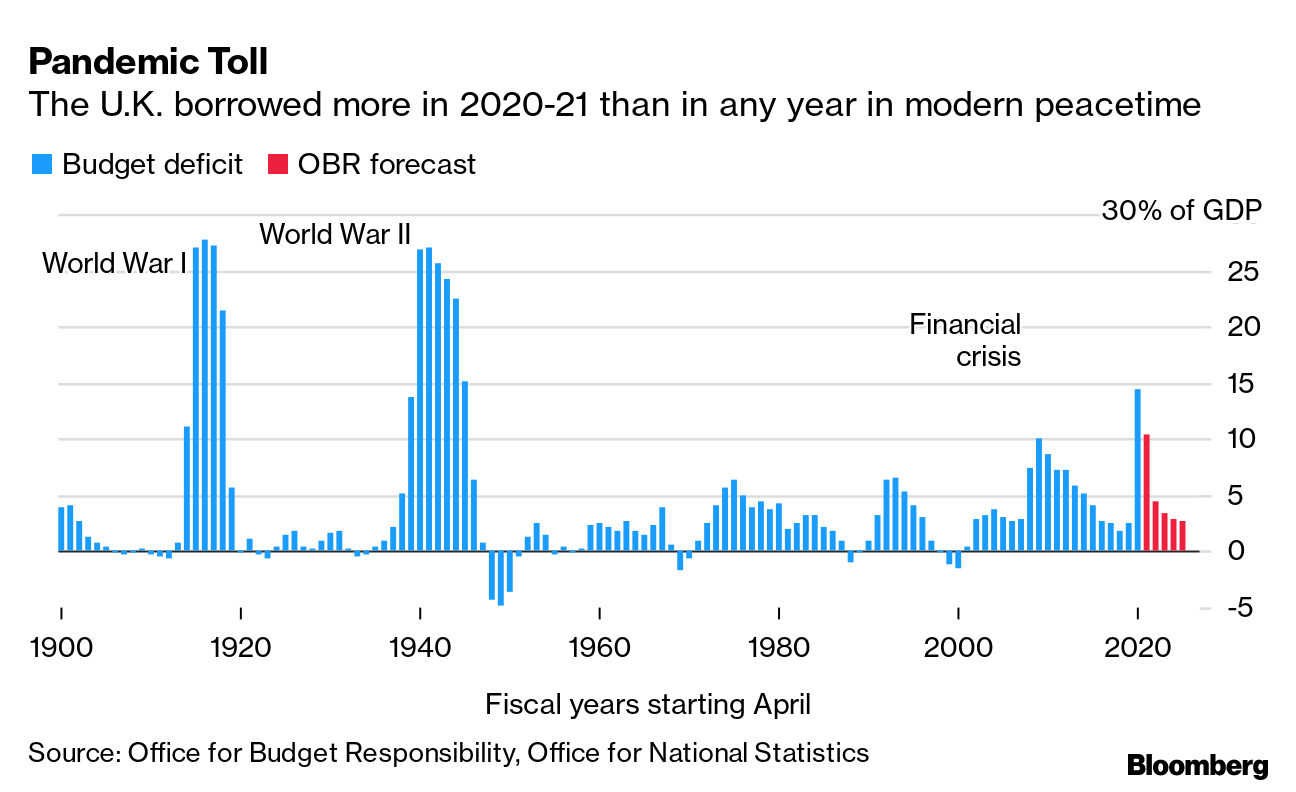 Britain recorded the largest budget deficit since World War II in the fiscal year ended March, showing the task facing Chancellor Rishi Sunak to repair the coronavirus-battered public finances, Andrew Atkinson reports. The £303.1 billion ($420 billion) shortfall, equal to 14.5% of economic output, was nonetheless less than forecast. In response, the Debt Management Office cut its bond-sale plans by 15%.
Don't Miss
Want to keep up?
You can follow us @Brexit on Twitter, and listen to Bloomberg Westminster every weekday.
Share Beyond Brexit: Colleagues, friends and family can sign up here. For full EU coverage, try the Brussels Edition.
Get More From Bloomberg
You can find all of our newsletters here, but here are some we think you'd particularly enjoy:
Bloomberg is also tracking the progress of coronavirus vaccines and mapping the pandemic. Sign up here for our Coronavirus Daily newsletter and here for our podcast.
Subscribe to Bloomberg.com for unlimited access to trusted, data-driven journalism and expert analysis.
— With assistance by Andrew Atkinson