02:59
This year, instead of the front row and flashlights, London Fashion Week is taking place across the weekend online, as a digital-only event. 
Much has changed for the fashion world since the 2020 event when CGTN Europe met stylist turned designer Deborah Latouche, who launched her 'modest fashion' label Saborah at the show. "I do believe in the product, there is a huge gap in the market," she said at the time.  
When CGTN caught up with her again this month as she prepared for her label to be featured in the emerging designer category at the show, Latouche described how the pandemic had affected her business. 
"At the beginning of the pandemic, I had so many plans, so many things that you were kind of supposed to do once you launched a brand – and then all of a sudden, I was at home with my children," she told CGTN Europe. 
"But actually I think it was really good as it gave me a great amount of time to really consider how the brand is going to work for me and my family."
Brexit concerns
However, Latouche is not just dealing with the pandemic. She has concerns about how the changes brought about by Brexit will impact her dealings with European Union countries.   
Like the UK's fishing, car and music industries, the fashion and textile sector is grappling with big changes in the way trade is done with Britain's closest international market.
"You've got a variety of different issues, each of them is a perfect storm but in totality are nothing less than a tsunami, that could potentially decimate the UK fashion industry," warned Tamara Cincik, founder and CEO of the industry group Fashion Roundtable.  
It recently sent an open letter to the British government, signed by 455 brands and individuals including designers Vivienne Westwood and Alice Temperley, as well as models and manufacturers.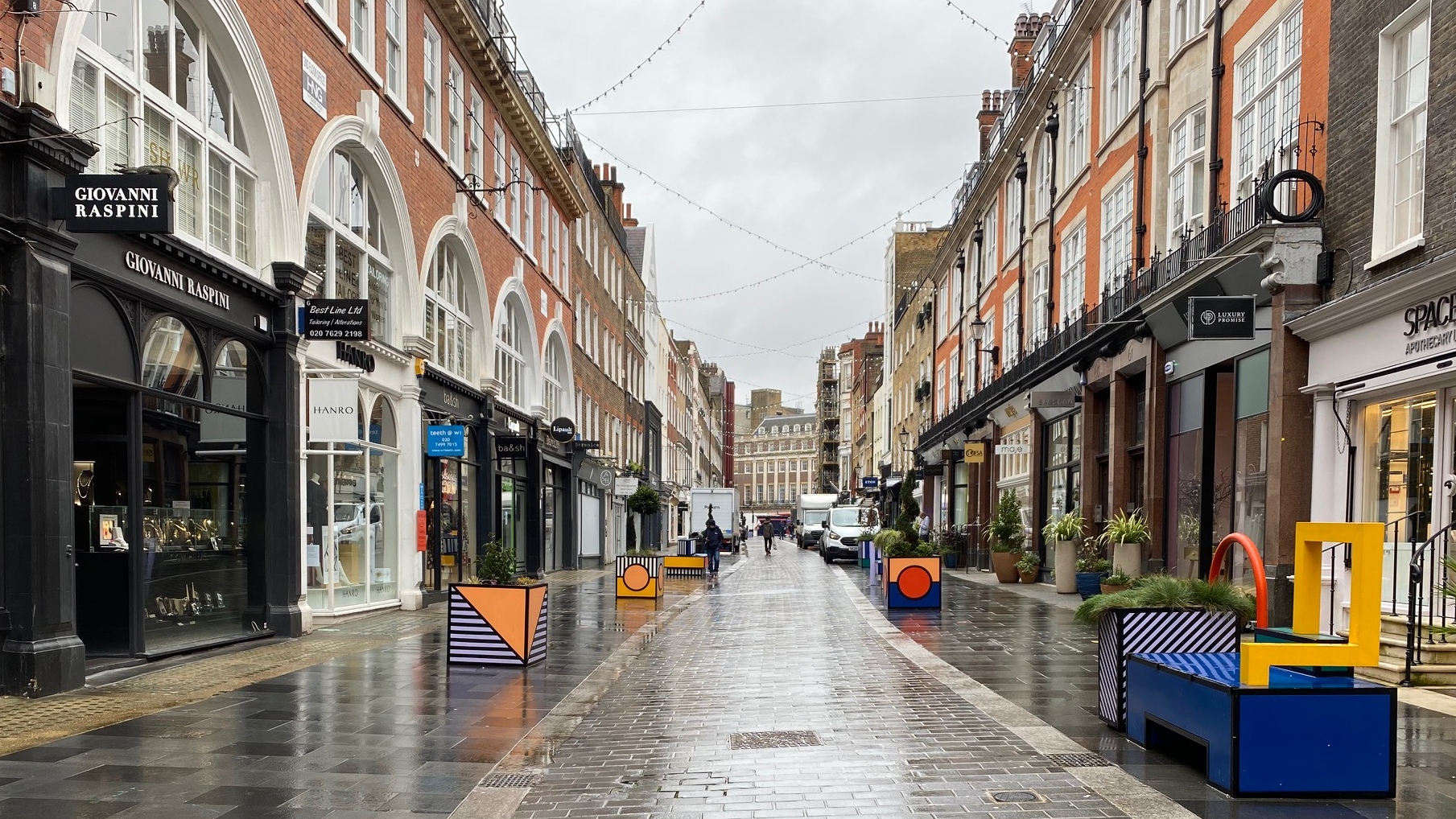 UK high streets are empty due to the current lockdown. /Catherine Drew
UK high streets are empty due to the current lockdown. /Catherine Drew
Cincik said the fashion and textile industry, worth nearly $50 billion annually and employing almost a million people, isn't receiving as much coverage as other industries – for example, fishing, which contributes much less to GDP.
Areas of concern include the end of free movement for goods and people after Brexit. This creates additional paperwork, delays and expense, impacting everyone from small companies to major brands and individual models and stylists.
The end of tax-free shopping for overseas tourists is another concern, particularly for the luxury sector, and leaves the UK as the only European country not to offer this perk. The Fashion Roundtable noted what it called an alarming shortage of garment workers and insisted that visas should be available for overseas workers, while efforts to train the domestic workforce should be brought forward.
So far the UK government has not responded to the Fashion Roundtable but insists it is actively reaching out to industry leaders to lend support and expertise in navigating the new rules.
It means that as this year's London Fashion Week takes place, the UK's fashion sector faces challenges many fear could cost the industry its influential role and reputation.